Book online and save
Time slot reservation required
Reschedule your tickets for free
Book online and save
Time slot reservation required
Reschedule your tickets for free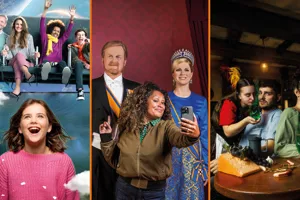 Experience more of Amsterdam!
Make the most out of your visit and combine Amsterdam's top attractions to create memories you'll never forget! The best part? You have 30 days to visit your favorite attractions. You'd rather visit them all on the same day? No problem either, make it an epic day full of fun!
THIS IS HOLLAND, Madame Tussauds and The Amsterdam Dungeon are all located in or near the city center, just a few minutes walking distance away from each other. Together, our attractions make the ideal tour to visit not only the city itself, but also your favorite attractions in Amsterdam!
Please note: The A'DAM LOOKOUT entrance ticket is valid all day from 10:00 to 21:00. So you don't choose a specific time slot for this, in contrast to THIS IS HOLLAND.